The Lower Circular Road Cemetery since 1840 has the mortal remains of a number of memorable personalities responsible for the development of art, culture and science in Calcutta and India. The Graves include Michael Madhusudan Dutt – the illustrious poet of Bengal, Sri Haren Mookerjee - the first Bengali Governor of West Bengal & a Scholar and Patriot, The Rev. Lal Behari Shah – founder of the first Blind School in India, C. F. Andrews - a close associate and adviser of Mahatma Gandhi and Rabindra Nath Tagore, Drink Water Bethune - the Educationist who introduced Women Education for the first time in India - his grave is maintained by the teachers and students of Bethune School and College, Dr. Austin Ghosh - the Founder Director of ONGC - the largest wealth producing organization in India today, Sir William MacNaughton of Bengal Civil Service, and several other well known personalities who loved Bengal and India. The South Park Street Cemetery (please see SPSC in the Bar) contain the grave of Henry DeRozio and we reproduce below an open letter on the Bi-centenary of his birth on 14th April 2009.
"Begin with certainties, end with doubts"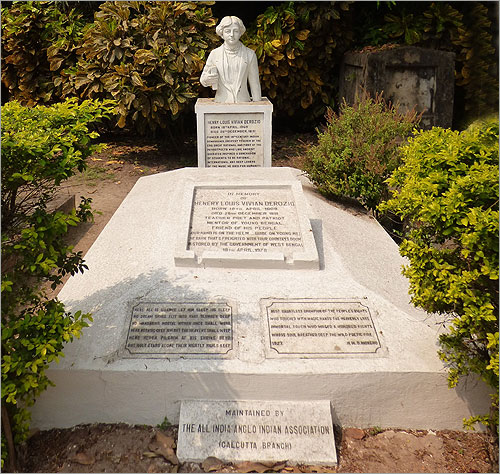 A Baconian principle that the Eurasian or Anglo-Indian, Henry Derozio, apparently adopted himself, and disseminated among his students in the Hindu College with far-reaching effects that survive to this day.
For Derozio, an open letter from the Christian Burial Board, on the bi-centenary of his birth:
Dear Henry,
We take the liberty of calling you by your first name, for you are our very own, like a very dear son. And we remember you with joy as we recall your birthday two hundred years ago in that old house in Entally's Puddopukur on the 18th day of April in the year of Our Lord 1809.

Though you lived a mere 22 years, what a brilliant innings it was that you played!
You were a patriot, born and bred in this country, and proud to be an Indian – at a time when most others like you had their hearts and minds overseas.
You opposed dogmatism, you questioned, and you rebelled – at a time when the Right of Free Speech was hardly recognized.
You were a poet of no mean standing.
You were a brilliant teacher of such zeal and enthusiasm that your lectures drew students from all over India to Hindu College.

Above all, you were an idealist, an admirer of English radicalism and of the French revolutionary principles of Liberty, Equality, and Fraternity.

We think back today of how the old guard took fright, and charged you with preaching atheism and disrespect of parents, and even with promoting incestuous marriage. Although you put up an able defense, the authorities forced you to resign in 1831. We say the college was poorer for it!

You were a victim of intolerance, a young dissenter, far ahead of his time. But the spirit of free enquiry that you stood for has never ceased to animate generations of teachers and students in our part of the world.

May Henry Derozio's spirit live on forever!
May God bless the country you so loved!
Amen.